The Critical Appraisal Lowdown is an online, podcast centred course in critical appraisal. The content will enable the user to read, understand and apply appropriate scientific research appropriately to their patients.
www.CriticalAppraisalLowdown.co.uk
The website contains mcqs to allow you to reflect on the topics covered and assess your knowledge.
Certificates are generated to allow demonstration of CPD completed. The Critical Appraisal Lowdown has been developed by Simon Laing (Emergency Medicine Consultant), Rob Fenwick (Advanced Clinical Practitioner) and James Yates (Critical Care Paramedic). These three clinicians have a common background in Emergency Care, a passion for evidence based medicine and its application in their practice, along with an extensive experience in podcasting with TheResusRoom.co.uk which holds a 5* iTunes rating.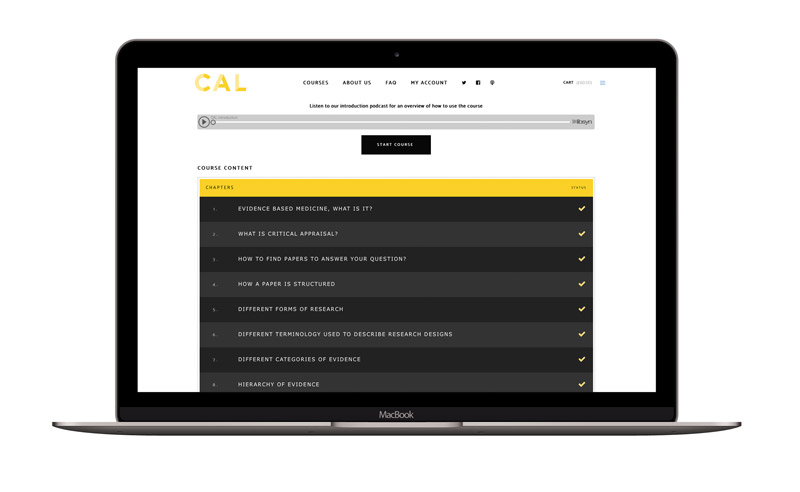 You can purchase unlimited access to the course for 6 weeks or 6 months on any/all of your devices using your personal membership login.
The course contains over 3 hours of web hosted podcasts, over 100 online questions to support understanding and retention of concepts and definitions.
Your personal certificate of course completion reflecting the anticipated completion time of 6 hours.
The course covers the following 19 sections
Evidence Based Medicine, what is it
Examples of great evidence changing practice
Examples of poor evidence changing practice
What is Critical Appraisal
PICO
Internal validity
External validity
Clinical significance
How to find papers to answer your question
MEDLINE, EMBASE, CINAHL etc
Grey literature
How a paper is structured
Authors
Abstract
Introduction
Methods
Results
Discussion
Different forms of research
Observational descriptive
Observational analytical
Experimental
Qualitative
Different terminology used to describe research designs
Cross sectional
Longitudinal
Retrospective
Prospective
Qualitative data
Quantitative data
Different categories of evidence
Expert opinion
Case report
Case series
Case control
Prospective Cohort Study
Retrospective Cohort Study
Controlled trials
Randomised control trials
Systematic Reviews
Meta-analyses
Hierarchy of evidence
Oxford levels of evidence
Further terminology to be aware of
Chance
Bias
Confounding
Internal Validity
External validity
Homogeneous
Heterogeneous
Statistical methods
Accuracy
Precision
Prevalence
Incidence
The hypothesis
P-values
Confidence intervals
False positives
False negatives
Power calculations
Being Aware of Outcomes
Statistically significant vs clinically significant
Secondary outcomes, beware
Diagnostic studies
The gold standard/reference standard
The population tested
Inter-observer reliability
Cost of the diagnostic test
Terminology to be aware of in a diagnostic paper
Case positive
Case negative
Test positive
Test negative
True positive
True negative
False positive
False negative
Sensitivity
Specificity
Positive predictive value
Negative predictive value
Likelihood ratios & area under the curve
Positive and negative likelihood ratios
Fagan's nomogram
Categorical Likelihood ratios
Area under the curve
Critical Appraisal of a Diagnostic Study
Critical appraisal of the ADJUST-PE study
CASP diagnostic study checklist
Therapeutic studies
Randomisation
Allocation concealment
Blinding
Intention to treat & per-protocol analysis
Follow up
The outcome of interest
Composite outcomes
Treatment effect
Relative risk reduction (RRR)
Absolute risk reduction (ARR)
NNT
 Critical Appraisal of a Therapeutic Study
Critical appraisal of the PEITHO trial
CASP RCT check list checklist
Final Assessment
Online assessment via true/false questions
CPD certificate generation